Vendor Contract
RV Overnight
Parking
Picture Gallery
"..an unexpected value and memorable experience are awaiting you. The cost of the room is well below what you would expect for a bed and breakfast."
" We were delighted with the service and rooms. The Creekside Park is a real bonus."
" Watching the hummingbirds from the kitchen window is a treat."
" the Creekside Park was the most beautiful place during the Covered Bridge Festival. Thanks for providing a place to eat and rest "
...what a surprise. The service and hospitality were wonderful; the b and breakfast Inn is in the center of Parke County. Try the Golf Course restaurant. It is a great place to dine..
" we did not know what to expect, but was delighted beyond belief at this great place to spend some time to rest and renew.."
test test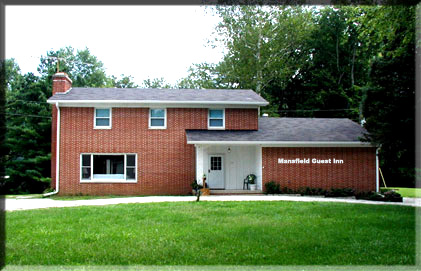 Breaking News: A new attraction - Mansfield Folk Art Village - opened in 2013. It is located at the Mansfield Guest Inn on Mill Street adjacent to the Mansfield Folk Artisan Gallery. It will feature new buildings and numerous Hand Made items. Most are created from recycled barn wood. In many cases the beams and wood is over 100 years old.
click for larger image
The Mansfield Guest Inn, located in Old Mansfield Village, is a unique lodging opportunity for tourists in Parke County. We are an affordable modern bed and breakfast which caters to tourists and we are also the home of a one-of-a-kind artisan gallery. Our gallery overflows into the

public spaces of the Inn so that guest have the feeling they are staying in an art gallery. Our Creekside Park has been improved and we have added a juried art gallery to the Guest Inn. Please call for information for rooms. Our Bed and Breakfast will be open all year with advance reservations. Make your reservations early.
The Guest Inn rooms for the 2021 Covered Bridge Festival are sold out. Thanks for your interest.
Mansfield, Indiana
Covered Bridge Festival
October 8-17, 2021


| | |
| --- | --- |
| | Nature in action at the Guest Inn. Pictures of robin eggs and chicks hatched this spring. |
2021 Covered Bridge Festival
October 8 - 17,
" ... a peaceful retreat for us during the Covered Bridge Festival. This is the place to stay for a visit to Parke County to see all of the covered bridges. The Mansfield Bridge is in the backyard just a few steps away from the Guest Inn."

" The mill and covered bridge may be seen from the garden. This is a special spot to experience history" Little Rock, AR guest